When booking musicians or a band for an event, you should have an idea of the type of music you want. A string quartet may be appropriate for a wedding reception, while a 10-piece function band may be appropriate for a full-fledged party. If you have any questions, please contact us at bookings@arrive.live.
Booking a performer using Arrive is the best way to guarantee you'll have the perfect performers at your event. What's more, it's incredibly easy. Here's how it works: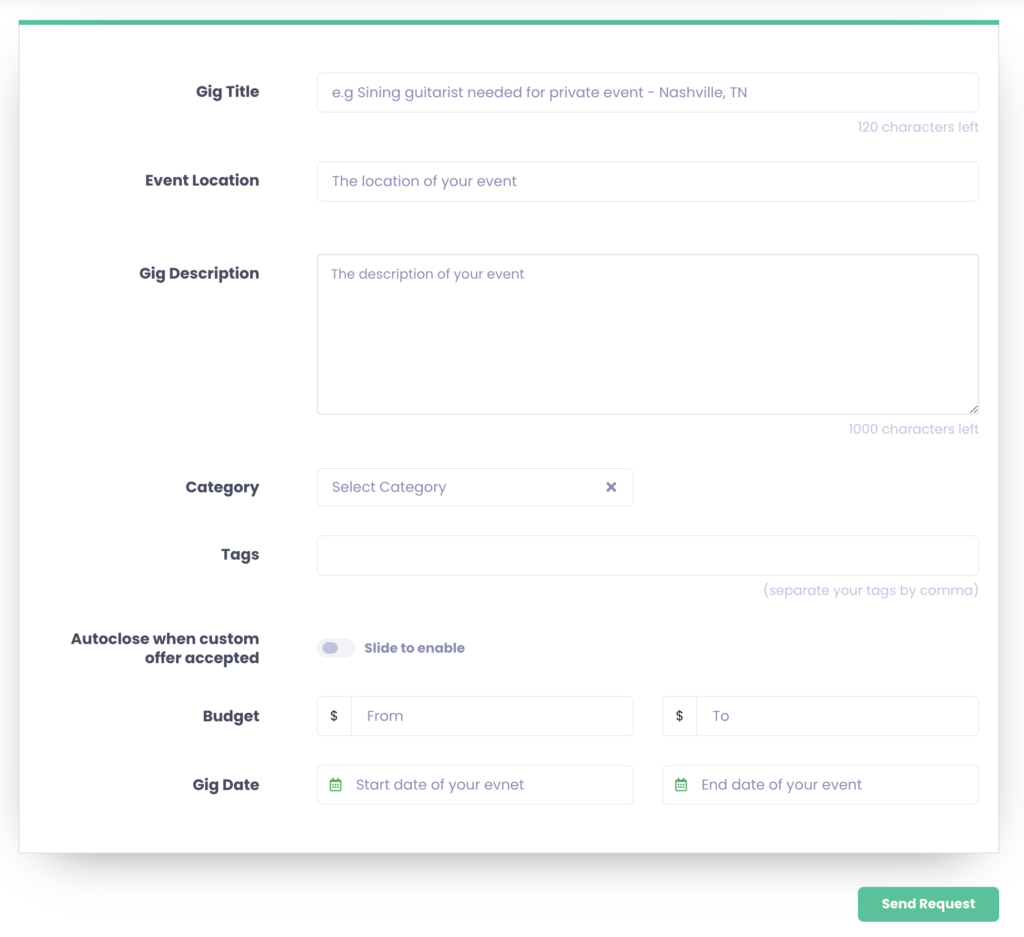 Your event details
Now you know what kind of musicians/performers you're looking for, you'll need to decide on the details of your event so that our performers can give you accurate quotes. The most important details to have to hand before completing the enquiry form are:
Event Title: Give your event a catchy, descriptive title that accurately reflects what the event is about.
Event Location: Include the full address of the venue, including the city, state, and zip code.
Event description. Write a detailed description of the event, including its purpose, target audience, event duration, and expected outcome. Specify any requirements for performers, such as dress code, sound equipment, or special skills. This will give the performers an understanding of what they can expect from the event and whether it aligns with their skills and interests.
Categories: Choose the type of performer(s) you want. You may select multiple categories and subcategories.
Tags: Use relevant tags to help performers find your event more easily and increase visibility. e.g: private event, birthday party, jazz band, wedding
Budget Range: Mention the budget range for the event, including the payment for performers. This will help performers determine if they're interested in participating in your event based on their rates and payment terms.
Event Date: Clearly specify the starting and ending date of your event.
Congratulations! Your enquiry will then be given a quick check over by our bookings team and then sent out to all relevant performers in Arrive network. You'll then shortly begin receiving applications from available performers who you'll be able to compare and then book your favourite.
Any quote inquiries that are posted here will have to be approved by the platform admins before they are sent out to all relevant performers in the Arrive network. This is to ensure that all content on our site meets our standards and guidelines, and that we are only sending out high quality enquiries to our performers. Once your quote enquiry has been approved, you will begin receiving applications from available performers who you can compare and choose from. You will then be able to compare and book your favorite performer for your event. Please note that this process may take 24-48 hours, as we want to ensure that you have a wide range of options to choose from and that all of the performers who apply meet our high standards.