What is Featured Gig?
A featured gig is the action done by performers to promote the gig and that the services they are offering are of high quality and reliable.
Benefits
A featured gig on Arrive can provide you with several advantages, including increased visibility, credibility, improved reputation and can lead to more bookings and exposure to new audience.
How it works
To feature and promote your gig:
Go to your profile and select "My Gigs" from the Gigs dropdown menu.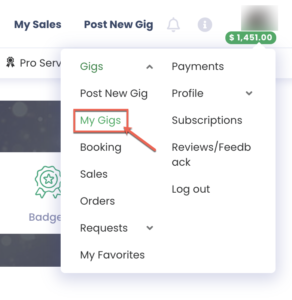 2. All gigs will have 4 buttons. Click on the "Feature" Button.

3. All gigs can only be featured for 14 days at a time. Select and purchase which pages you would like to highlight and promote your gigs on.
Home Page, highlight and promote your gig on Arrive homepage.
Category featured gigs
Subcategory featured gigs
To maximize your gig promotion, we recommend that you select the 3 pages.
4. Choose to pay from your Account Balance or PayPal.
5. After payment, you will be able to view, download or print your invoice.
6. A "Featured" badge will now appear in the top right corner of your gig. Visit your profile page to make sure the icon is shown properly.